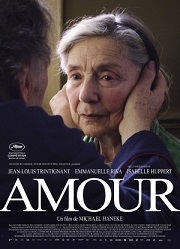 This movie is director Michael Haneke's newest work; it is beautiful and incredibly sad, both touching and crushing my heart. An elderly couple of retired musicians—Anne and Geroges—love each other dearly and still enjoy music. One day, Anne, who seemed perfectly healthy before, suddenly suffers from a stroke. A supposedly simple surgery to reduce her future risks goes badly, and Anne is left with half of her body paralyzed. This movie is about how this change in her health affects Anne and the people around her. This incredibly sad and well-made movie won many international film awards, including the Academy Award for Best Foreign Language Film and the Palm d'Or at the Cannes International Film Festival, in 2012.
I actually wish to talk about how poorly made the official trailer is. The trailer seems to try to twist this wonderful movie into something that is not—a suspenseful thriller, with a strong mystery-solving element. It is true that, typical of Haneke's style, this movie doesn't give you all of the answers of what exactly happens or what exactly to think. However, I believe this movie is first and foremost a story about love, and how people deal with that love in hard situations. The trailer focuses on images of the husband Georges (played by Jean-Louis Trintignant) panicking, the door being knocked down, and the daughter being upset, and it shows very little of the wife Anne (played by Emmanuelle Riva). It gives no indication of the core element of this movie: Anne suffering from a stroke, and how she and Georges—who love each other deeply—deal with the change.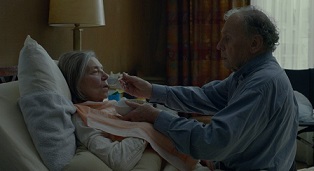 The most beautiful part of this movie is the very convincing and heart-warming love Anne and Georges have for each other, even in their old days. They enjoy going to piano concerts together, fondly reminisce over shared meals, and playfully tease each other with obvious love. However, Anne is increasingly frustrated and embarrassed by her deteriorating physically state, and this pains Georges deeply. Both pains are very understandable and heart-breaking.
There is also an interesting contrast between the daughter's and mother's views on hospitals. Anne does not like going to the doctor, and only sees one after her stroke upon the urging of her husband Georges; the last thing Anne wants to do is spend her last days in an uncomfortable and foreign hospital, especially after a failed operation. The daughter, on the other hand, wants the best possible treatment money can buy in a hospital and does not understand why her mother refuses. The daughter's reaction is very reasonable for a modern person with a lot of faith in the modern healthcare system, and for a daughter who deeply wishes for her mother to recover.
The fact that all of the characters' emotions are completely normal and relatable is what makes this movie so beautiful and sad. It does not need more drama, as the trailer tries to suggest. All of the characters are very relatable to anyone who has ever experienced loss.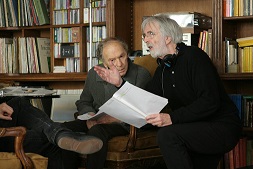 As clear by the sensitive understanding of a loved one suffering presented in this movie, director Haneke was inspired to make this movie from his personal experience with his aunt's death. He wished to address the issue of, "How do you manage the suffering of someone you love?" It is said that director and screenwriter Haneke had Jean-Louis Trintignant in mind when he wrote the script; Trintignant happily accepted the opportunity to work with Haneke, a director whom he has deep respect for. During auditions for the part of Anne, it is said that Haneke was very impressed with Emmanuelle Riva. Emmanuelle Riva was nominated for the Academy Award for Best Actress for her performance. Director Haneke always has a clear vision of what emotion he wants delivered in each scene, and his actors respect him for his ability to communicate to them exactly what he is looking for. I am actually surprised that Haneke would approve the official trailer, which seems to be describing a completely different movie than the beautiful one that I watched.
Sakuranbo