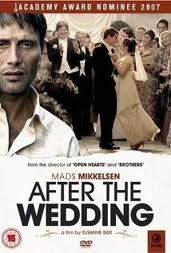 When I started watching After the Wedding, I thought, "Oh, this resembles In a Better World!" and it turns out that both are products of Danish female director Susanne Bier. The subject matter is different, but there is a commonality in how she makes her movies. Some sort of abstract notion comes first and then various pieces of the story are grafted together incongruently, like connecting a tree with bamboo.
Jacob, a Danish man, manages an orphanage in India, but it has fallen into a state of near bankruptcy. At this time, a corporation from his homeland Denmark offers a donation. However, it is offered on the condition that Jacob comes to Copenhagen to meet the CEO. Jacob meets Jørgen—the CEO of the corporation—in Copenhagen, but since Jørgen's daughter Anna is getting married that weekend, Jørgen invites Jacob to the ceremony. At the wedding ceremony, Jacob is reunited with Helene, his lover from 20 years ago, but Helene is now Jørgen's wife. Jacob then learns that Anna is actually his biological daughter and is shocked. This meeting was actually set up in order for Jørgen—who has cancer and won't live much longer—to entrust his family to Jacob after his death; he will donate an enormous sum to Jacob's orphanage if Jacob agrees to live in Denmark. Jacob now faces the decision of whether to choose his biological daughter or the Indian orphans he loves.
This movie depicts just the short time period of before and after Anna's wedding weekend, but many themes are packed into it. Propaganda to not forget about the poor in India; biological parents vs. adopted parents; if one's homeland is the country one was born in or the country one chooses; deep love being passionate vs. steady; if true kindness is telling or not telling someone the sad reality; if one should live as an immature idealist vs. a problem-solving realist; the responsibility of a person for their family… Anyway, there are various ideas and reasonings packed into this movie. As a bonus, Anna discovers her husband having an affair immediately after the wedding ceremony, which is ridiculously hasty.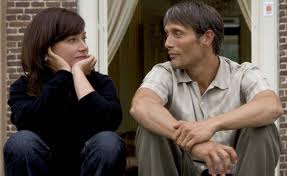 Since too many ideas were crammed into a two hour movie, the story fails in various places and becomes unrealistic. Immediately after Helene separated from Jacob, she realizes she is pregnant with Anna, but it doesn't look like she made a great effort to find Jacob. "Although I waited for you to return to Denmark, you didn't return after all," she says, obscuring the situation with romantic words. If the two still have some remaining feelings for each other 20 years later, why didn't they put in more effort to get each other back? As for Jørgen who made a fortune for himself and is surrounded by many friends, there should be someone who can help his family after his death; also, he should be able to have his lawyer manage his estate for his children. But why would Jørgen want to leave his family—which includes Helene and his young twins—to the care of Jacob, someone whose trustworthiness is unknown, after his death? Also, Jørgen seems to want Jacob to be with Helene after he dies, but why should two people who walked away from each other 20 years ago suddenly be together? Helene—still beautiful, economically stable, and strongly independent—doesn't need a spouse when she becomes a widow, and if she does want one, she should be able to choose who that is, so why should that be her lover from 20 years ago?
Above all else, however, the most questionable part was how Jørgen so easily located Jacob in India. If Jørgen knew where Jacob was and had been observing him for a long time, it would be creepy; in the movie, Jørgen, in his finals days with cancer, is (luckily) able to track down Jacob and contact him. This is unrealistic. The first thing that someone who knows they won't live long because of cancer does, as Jørgen does, is sort out their finances so that the people left behind don't have to worry about it. However, the next thing they think about is spending every minute and every second of the little time they have left with their family that is most important. When faced with death for the first time, everything that until now was taken for granted would look completely different and even one's view of life would change fundamentally. The story that he suddenly opens up his heart to someone that he doesn't know at all is too unnatural.
Susanne Bier sprinkles in Afghanistan, Sudan, and other third world countries in her works, but it is said that she herself has never been to these countries until she starts filming it. All I can say is that she is the type of person whose conscience is somewhat awakened by information she may hear about a country. This movie aimed to be a poignant melodrama and scenes such as when Anna and Jacob build feelings as a parent and daughter are quite beautiful, but, in order to conveniently tell a beautiful story, there are too many occasions in this movie where disjointed details were forced together. It is hard to feel empathy with unrealistic things happening one after another; I understand the lovely intention of the director, but regretfully it was not an emotionally touching movie.